We've rounded up the pros and cons of our perpetual and term (monthly and annual) licenses so you can decide which best suits your needs.
PERPETUAL LICENSE
Pros:
One-time payment – you pay for the license upfront, without any recurring payments.
Never expires – a perpetual license never expires. It's only limited to a major version release*.
Cons:
High initial cost – perpetual licenses require a high initial investment.
Limited to major version access* – an upgrade to latest major version requires additional investment. If you don't upgrade the license, eventually your current version may become unsupported.
Scalability and license management – additional staff members require new licenses outright – but if a staff member leaves, you are stuck with perpetual licenses you may no longer need.
RENTAL LICENSE
Pros:
Low initial cost – low initial investment compared to a perpetual license. Best option for freelancers, small and medium businesses.
Access to latest version – you always have free access to the latest major version of V-Ray.
Scalability for short term projects – add or remove licenses to respond to the needs of your project.
Easy license management – you have the flexibility to decide how many licenses are required for the project. Easy implementation of in-house render farms.
Easy budget management – affordability with a predictable payment schedule.
Cons:
Recurring payment – requires monthly or annual recurring payments.
Time-limited – your license will expire the moment your rental period is over.
This total cost of ownership (TCO) table will help you understand how much V-Ray Next for 3ds Max monthly, annual and perpetual licenses cost over a five-year period.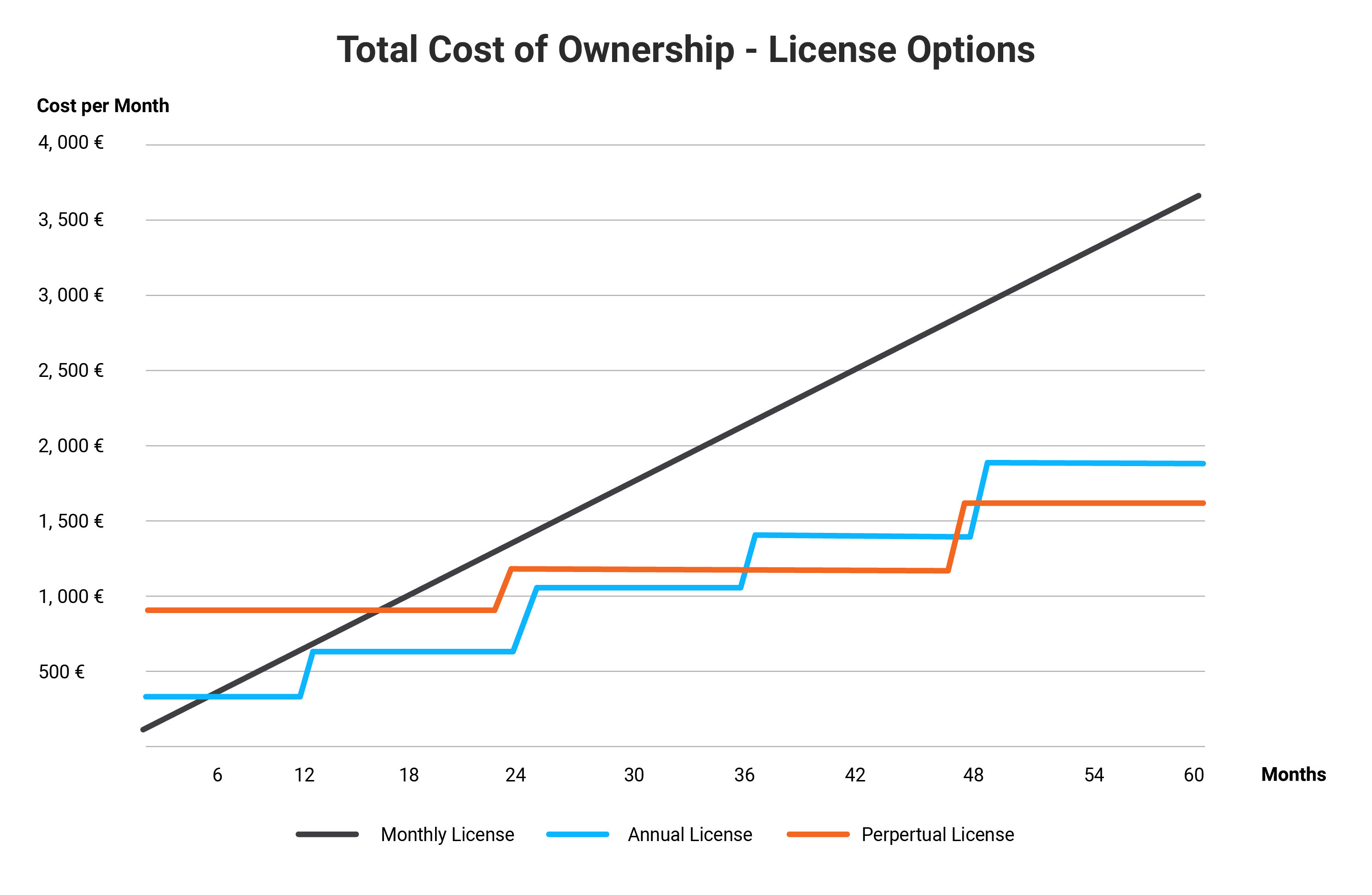 * Minor updates include service packs and bug fixes denoted by an increment to the right side of the decimal point in the version number, such as 3.1 or 3.7.
** Major version upgrades are denoted by an increment to the left of the decimal point, or a new product name, such as 2.x, 3.x or Next. We generally release major new versions every 24 months, and they include significant new features and additional functionality.