Corona for Cinema 4D Installation Process
Corona comes with an automated Universal Installer, which makes the installation process very easy:
1. Run the Universal Installer.
Note: If you are using User Account Control (UAC), a security prompt will open - you will need to confirm that the installer can continue. The security window will also tell you if the file you have just run is a certified, genuine copy and does not contain any harmful code.


2. Carefully read the EULA and select "I accept the terms and conditions". Then click "next".

Windows: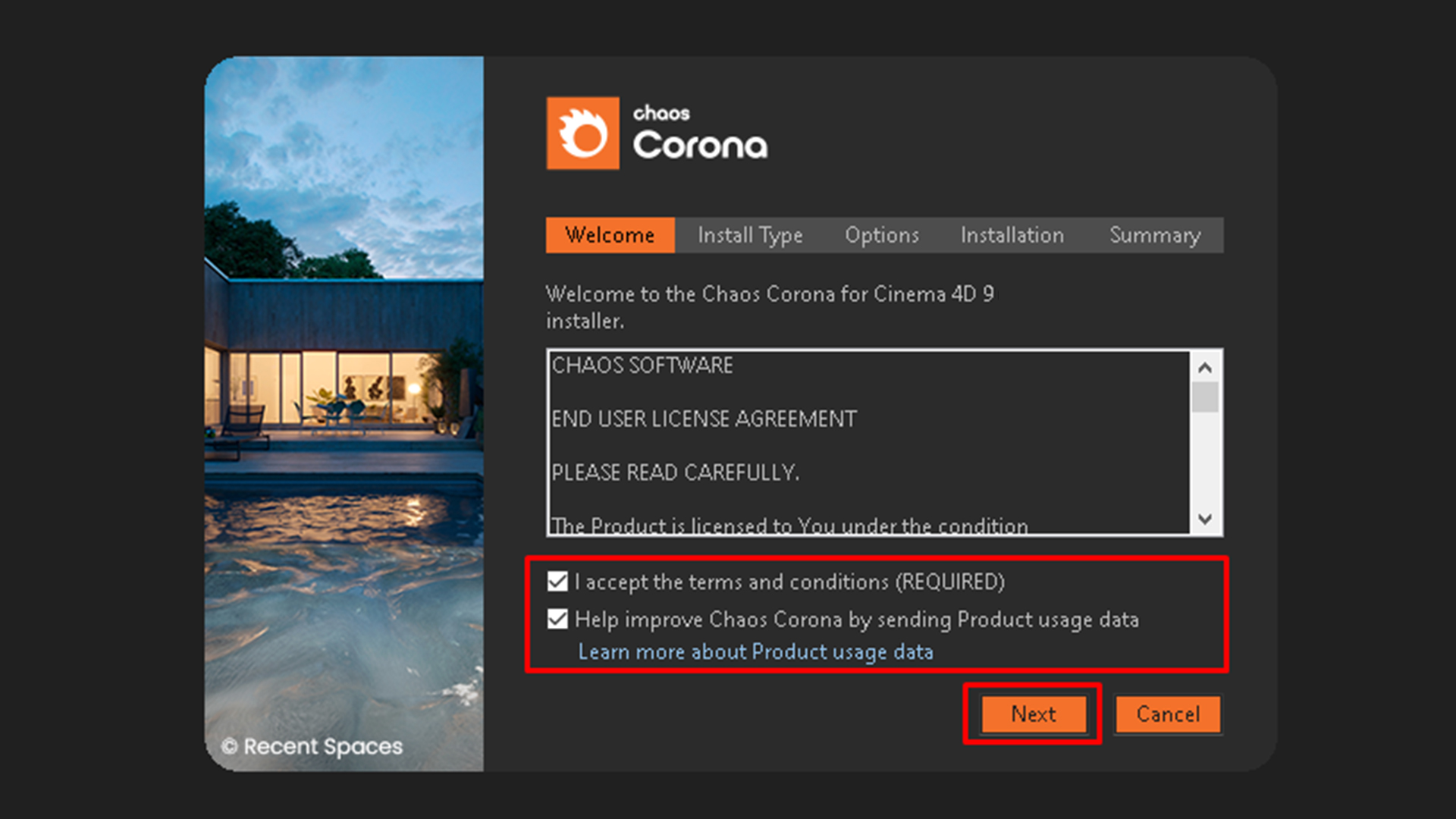 Mac: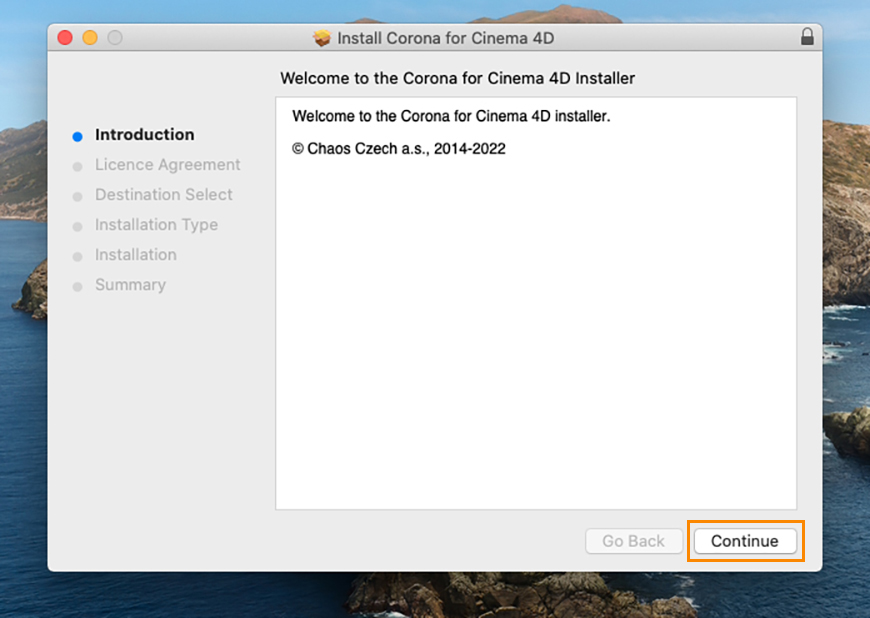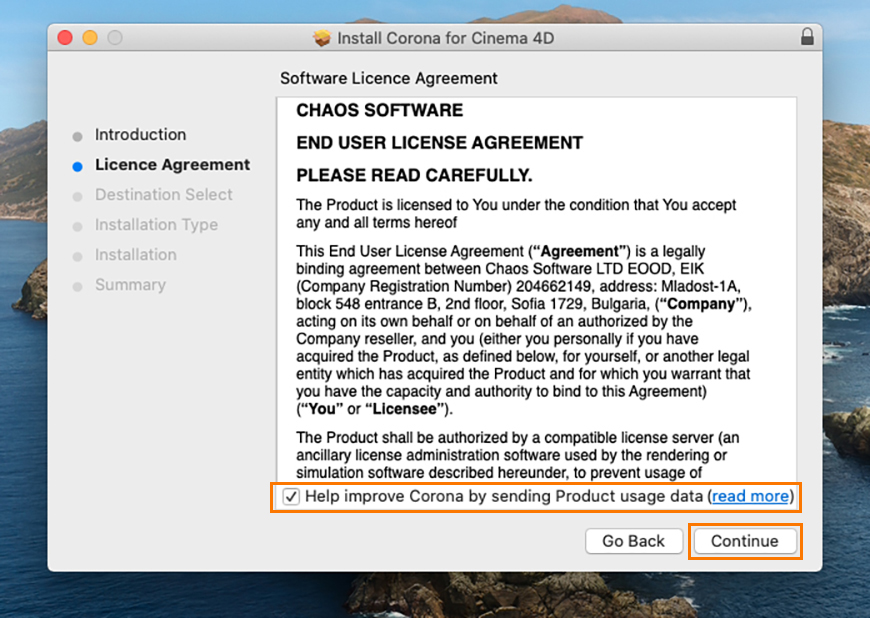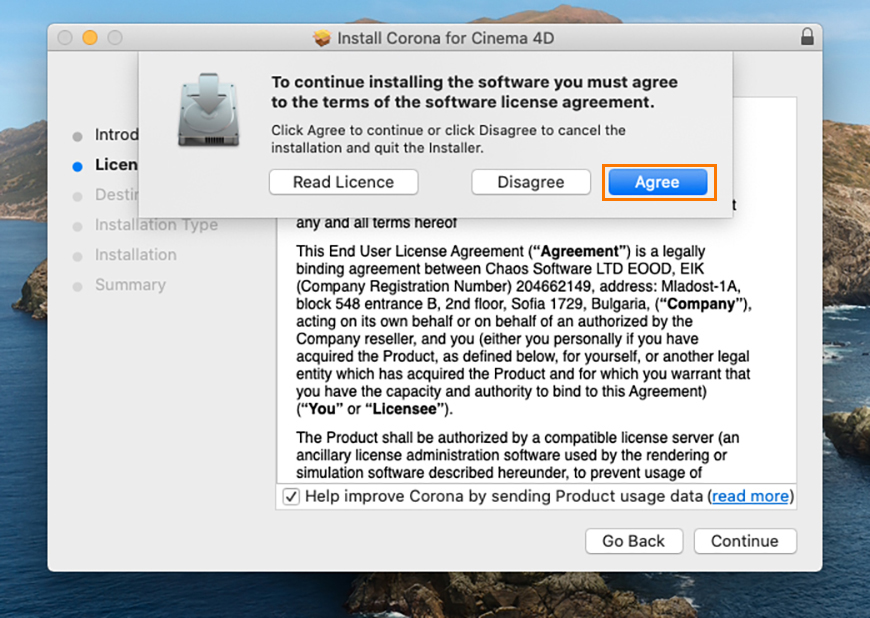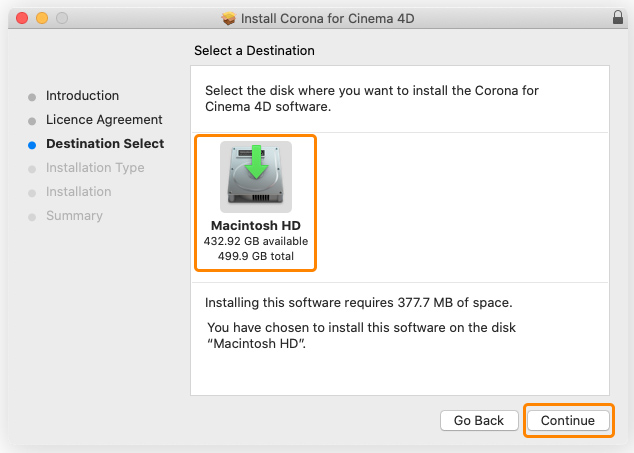 Mac users: Make sure you install Corona in the same Hard drive where Cinema 4D is installed!



3. On the "Install Type" screen, you can select:

Typical
Install Corona plugins for all Cinema 4D versions detected.
This is recommended for most users. It is the fastest, fully automated installation type.

Note: If you already have an older version of Corona installed on your system, this mode will show up as "Update" instead.


Windows: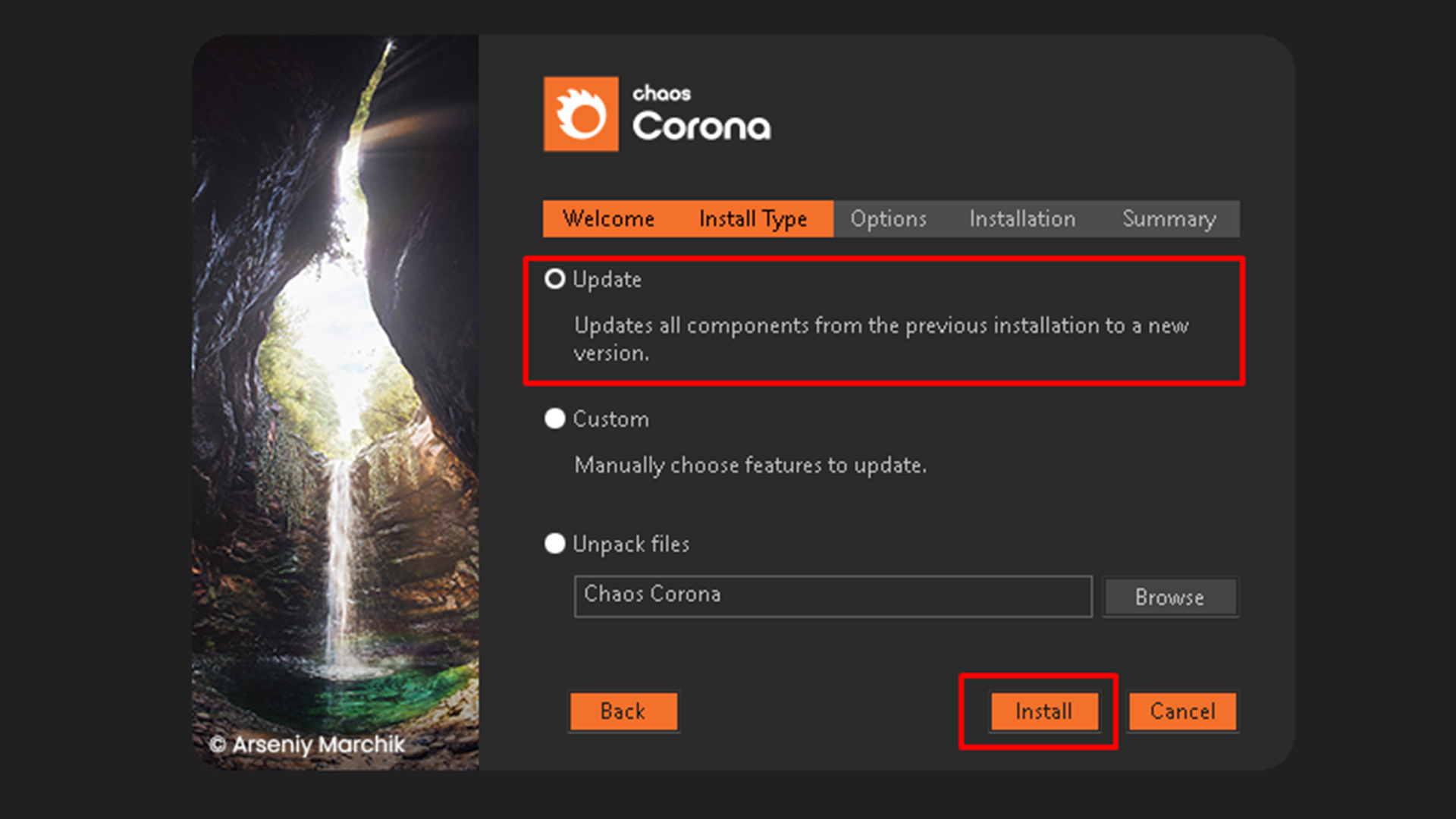 Mac:

Click on "Install" to initiate the typical install type or click on "Customize" to see the custom options to install Corona. If you already have an older version of Corona installed on your system, then it will automatically update in the Typical Install type.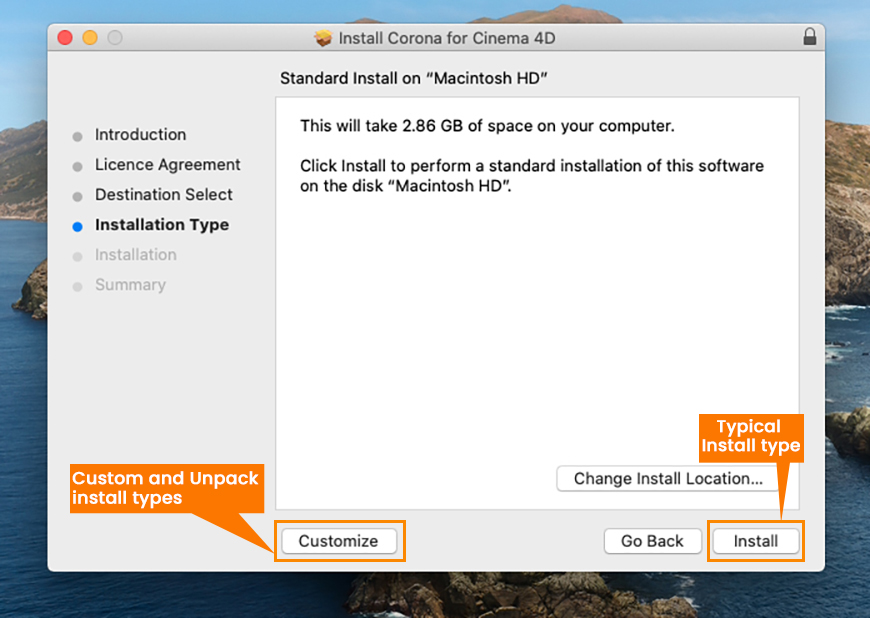 Custom
Manually choose features to install and where to install them.
This is an advanced installation method, allowing to choose the specific items to be installed and their locations. Useful, for example, when using different Cinema 4D versions and willing to install Corona only for one of them.

Windows:



Mac:


Unpack files
This unpacks all the installer files into a specified directory. Useful for advanced users and debugging, for example, when installing the plugins manually or if there were some problems during the typical installation. e.g. if the installer could not find any host application, then you can unpack the files and copy them manually. For more information on the manual installation of Corona, see: How to install Corona manually?




4. After successful installation, you should see the following message: "Chaos Corona was successfully installed on your computer". Any errors will be marked with a red font.

Windows: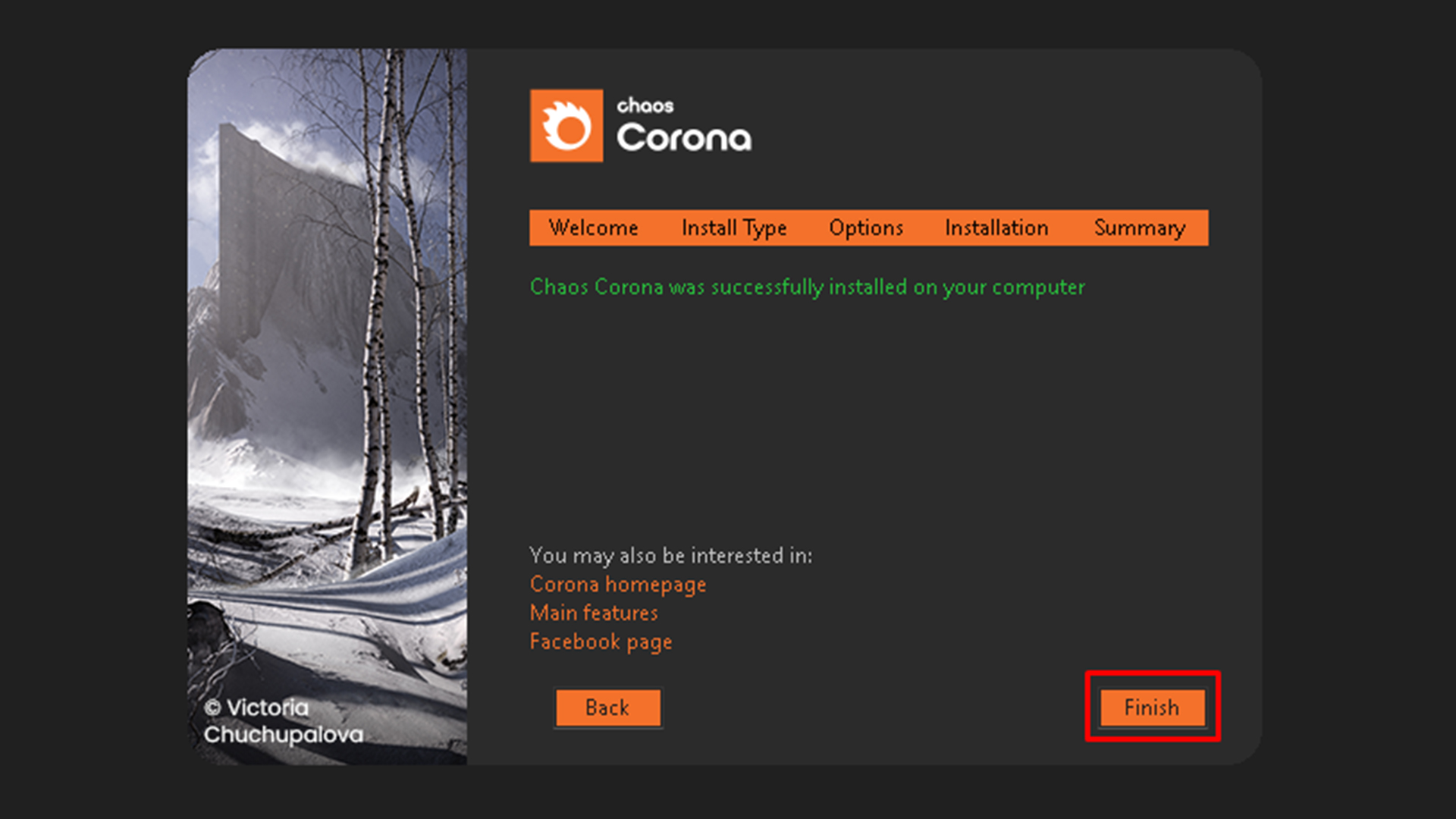 Mac: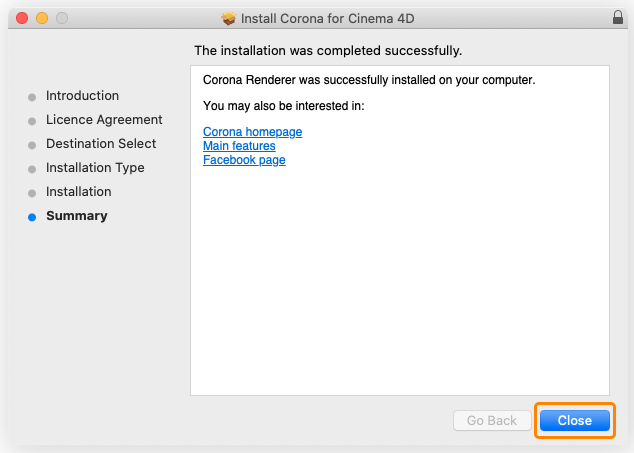 Before running Cinema 4D, make sure that your computer is connected to the Internet.


After successful installation, you will be able to activate the Corona license. Please refer to this guide: Activating Corona for Cinema 4D.
Note: If you encounter any problems with installation or activation, please contact us by submitting a support ticket.