Note: The Corona Material Library was introduced in Corona Renderer 7.
Older versions do not include this feature.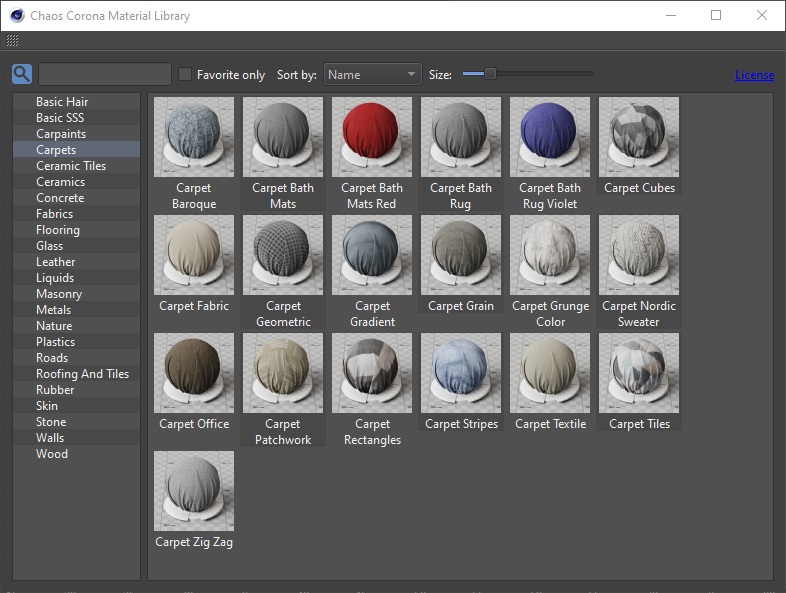 What is it?
---
The Corona Material Library was introduced in Corona Renderer 7 as a part of the installation package. It is downloaded automatically during the installation but can be also installed manually in offline mode.
It provides hundreds of ready-to-use materials, each with a high-quality preview. The library is mainly intended for beginner users and those having problems with setting up basic materials but maybe as well useful to advanced users. The most common uses of the material library are:
Quickly painting scene objects with realistic materials (this can greatly speed up your workflow!)
Using the material presets as bases for creating own ones (great for users who has no experience with a material creation and introducing variation in the scene)
Using the material presets as references for creating new materials from scratch (great if you are having trouble setting up a specific material)
How to find the Corona Material Library in C4D?
---
To open the Material Library go to the Corona menu > Material Library.
What are its features?
---
The most common uses/features are:
View materials by category.
Set and view only favorites.
Drag and drop materials directly into the objects at the viewport.
Double click to add a material to the Material editor so you can customize it or assign it to an object.
Select all objects in the scene that use a certain material.
Many of the materials don't need UV mapping, as they use the

Corona Triplanar shader

.
It can be installed in offline mode

.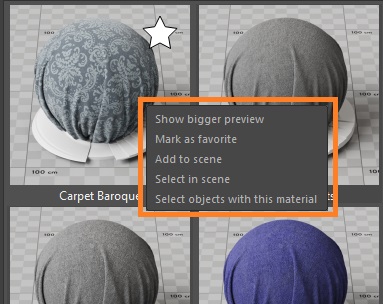 Material Library updates in Corona 8
---
33 new materials in Nature category




9 new materials in Plastic category




13 new materials in Glass category


Future improvements
---
As with other features of Corona, we are planning to improve the material library in the upcoming versions. Further ideas include:
Ability to easily scale textures and material properties (scale of the triplanar shader, displacement, absorption,...)
An easier way to store the material library data on a network drive.
More material presets.
General UI improvements.
Troubleshooting
---
If you are having some issues using the Corona Material Library (it does not start, shows an error message, crashes, etc), try following the below troubleshooting steps:
Uninstall Corona from the Windows "Programs" list

Go to C:\Program Files\Corona and remove the whole "materials" folder

Install Corona again along with the Corona Material Library file which will install it in offline mode - how to:

[link]

Go to C:\Program Files, select the "Corona" folder, right-click on it, select "Properties", uncheck the "Read-only" checkbox and save the changes.

Check if the issue remains.
If the above solution doesn't help, please try the below steps:
Make sure you have installed Corona
If during the install process you have received some errors regarding the installation of the Material Library:

Please re-run the installer with admin privileges by right-clicking the installer and choosing the "Run as Admin" option. (Windows users only)
Temporarily disable any firewall that can possibly be blocking the Material Library download.

Try performing a fresh new install (you'll need to first remove Corona from your computer)
If you're a macOS user, please make sure you're running Mojave, Catalina, or BigSur OS. (Corona doesn't support older macOS versions than Mojave). If you have an older OS version, please upgrade to the newest version.
In case of any further issues please contact us.
See also: