Introduction
V-Ray GPU 6 brings changes to the GPU UI aimed at improving the user experience. We have updated the GPU sampling defaults to better represent universal settings. The GPU UI is now able to keep all relevant settings on swapping between V-Ray and V-Ray GPU, this includes color management, Global illumination, Frame buffer settings, and Global settings. In earlier versions of V-Ray, swapping between V-Ray and V-Ray GPU would reset all settings to defaults, the old GPU sampling defaults were aggressive, this leads to GPU renders being cleaner than CPU(and slower). Moving existing scenes between V-Ray and V-Ray GPU was a complicated task, requiring a lot of testing and manual tuning to GPU sampling.
The new changes to GPU UI simplifies this process, all sampling settings are translated automatically between V-Ray and V-Ray GPU, giving users comparable noise results.


New optimized GPU defaults
V-Ray's workflow has been about ease of use in recent years, V-Ray GPU is able to render noise-free images without manual work on the artist's side. All sampling settings are handled automatically, V-Ray GPU uses smart sampling and scene adaptivity to learn about the scene, then assigns the most optimal number of samples for each component, diffuse, reflections, refractions..etc
V-Ray GPU uses 2 sliders to control noise/render times, Samples Limit and Noise Threshold.
Samples Limit specifies the maximum samples per pixel for refining the image.
Noise Threshold determines when to stop refining a pixel. Higher values allow more noise in the image, while lower values try to reduce the noise.
We changed the default value of Samples Limit to 2500, it represents a better universal default and should work well in most scenes.
Samples limit has the biggest impact on performance, default settings should work for most cases. If you need cleaner renders you should first experiment with lower Noise Threshold before going up on Samples Limit.
Bucket or Progressive Rendering?
Recommendations for rendering with V-Ray GPU include using Progressive mode for local rendering and Bucket mode for Distributed Rendering. In the case of most scenes, a common choice is setting a limit of 2500 samples and a Noise Threshold between 0.01 and 0.005. Additionally, it's important to utilize the enhanced AI Denoiser and Intel Denoiser in V-Ray 6, as they excel at preserving shading details compared to previous versions.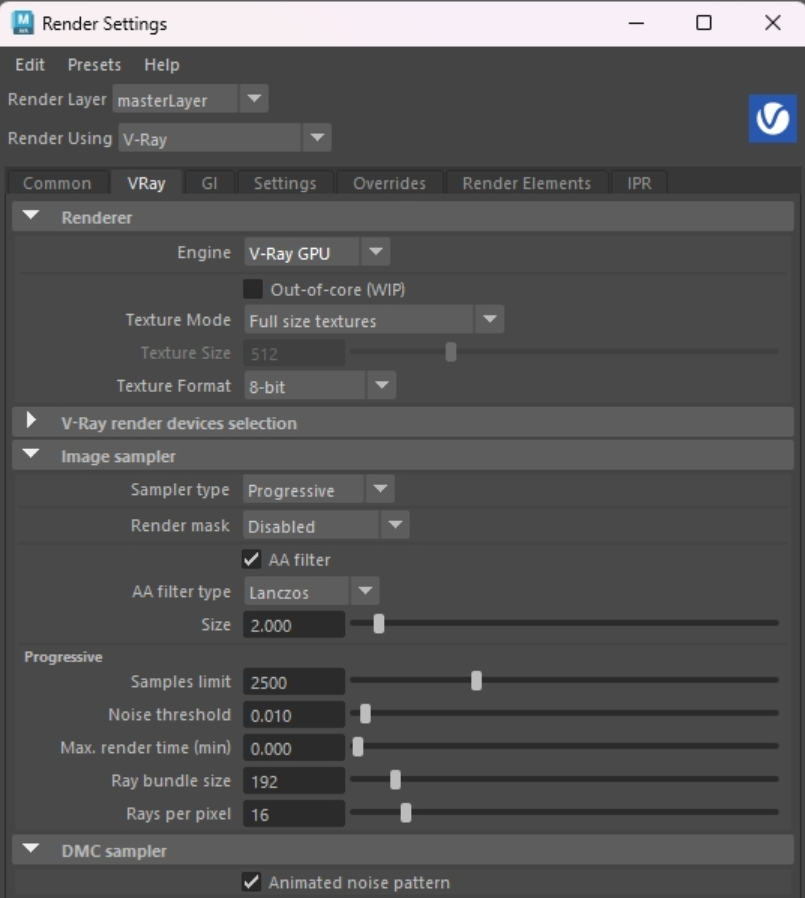 Comparable Noise results between V-Ray and V-Ray GPU
In V-Ray 6, the GPU UI automatically converts sampling settings between V-Ray and V-Ray GPU, giving you close noise results. Noise Threshold is linked between two engines, it will not reset to the default value like before. Samples Limit is internally linked to Max Subdivs, this eases the process of testing the GPU engine with existing CPU scenes and gives the GPU engine a big performance boost as it uses more appropriate sampling settings.
Additionally, all relevant render settings are kept when swapping between V-Ray and V-Ray GPU. This includes:
All Frame Buffer settings
Global Switches
"Fit resolution to VFB" (IPR)
Light Cache settings
Image Filter and Render Mask
Environment rollout
Camera rollout
Color Mapping rollout
Color Management rollout​