Overview
This article provides a comprehensive guide on how to install the recommended Windows drivers for V-Ray GPU on Windows operating systems. It explains the step-by-step process of identifying the compatible drivers for your GPU, the installation procedure, and troubleshooting tips to ensure a smooth setup.
Please find the recommended drivers for GeForce and Quadro cards on our V-Ray GPU product page.
Currently the recommended driver for GeForce cards is 546.01 and for Quadro cards is R535 U8(537.70).

Note: a stable driver is a big part of a reliable GPU rendering experience, please don't update your drivers whenever Nvidia releases a new build, you need to wait for us to test/verify before updating. If you use an old or new driver you will find a warning message in V-Ray's log. It is normal that we recommend a certain driver for up to 3 months, this happens if there are issues with newer released drivers. We communicate closely with NVIDIA when we recommend a certain driver, and if we found issues/instability.
Installing the recommended drivers for V-Ray GPU
Visit V-Ray GPU page to check the recommended drivers, it is in the banner at the top: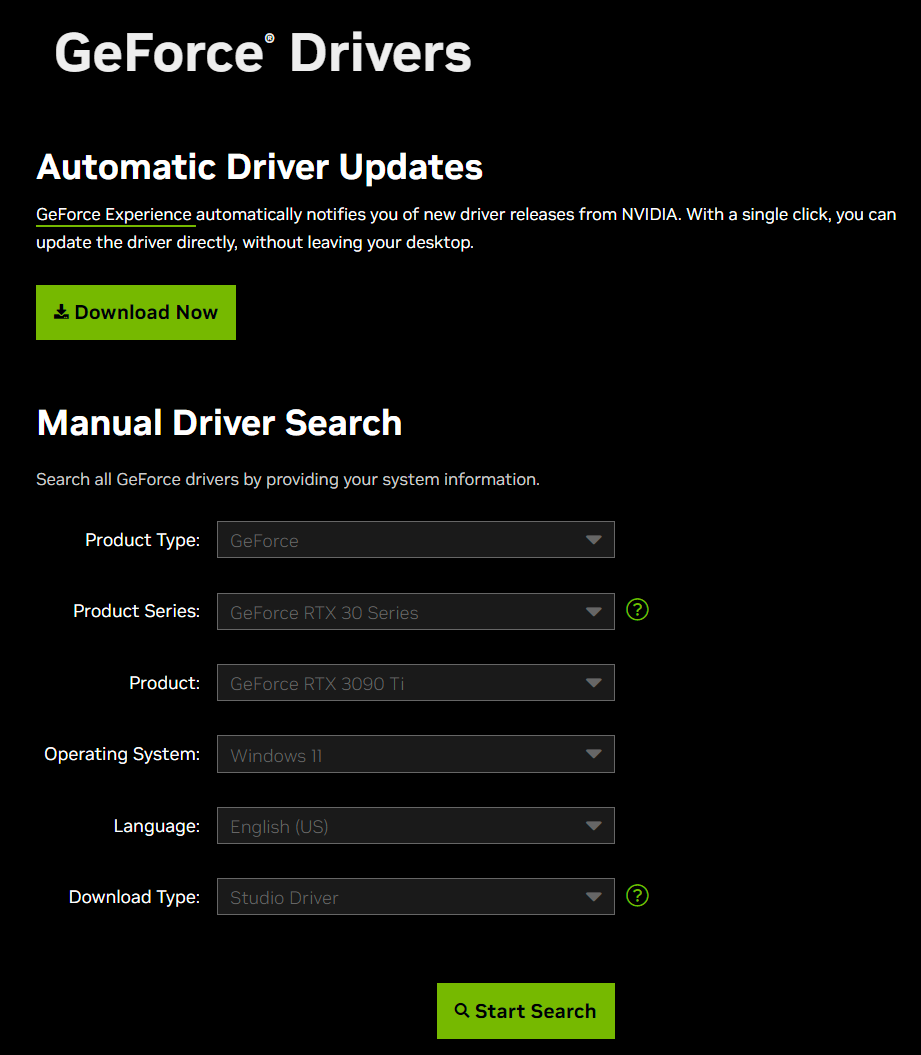 The Product Type is GeForce, then choose your Product Series and Product Name (don't select Notebook unless you own a laptop). Choose your Windows version, then set the Download Type to Studio Drivers.

Note: mostly we recommend Studio Drivers as they don't get updated often, but in corner cases, we could recommend Game Ready Drivers if we need to, as they get released with fixes before their Studio counterparts)
Click on Start Search, you will get a list of drivers sorted by what is newly added. In this case, the recommended drivers we tested are 536.40, click on Get Download, then click Download Now on the next page.
Once downloaded, run the file as Administrator. It will ask you for a path to unpack the contents, the default location is fine in this case:
Click on NVIDIA Graphics Driver.

Note: we don't recommend installing GeForce Experience for stability reasons (unless you use some of its gaming features).
Click on Custom Install, and check the Clean Install checkbox.



Note:

this resets any settings you have in the NVIDIA Control Panel, so you will need to manually change your NVIDIA control panel settings (see below) every time you install a new driver:
Click Next, and wait for the installation to finish. At this point, you need to save your work and close all other applications.

Note: the screen will flicker multiple times - it is normal.
At this point it might ask you to reboot your machine, this doesn't happen every time you install a new driver, please reboot your machine if it asks you to.

Note: if it happens that your monitors don't wake up or if your machine gets stuck for more than 5 minutes on black, you will need to restart your PC manually(cold reboot) and then repeat the steps again. It will work fine after a cold reboot.
Note: when the installation is finished we recommend rebooting your machine one more time - to be safe. Now we can get to change some of the NVIDIA Control Panel settings.
NVIDIA Control Panel Settings
Note: doing a Clean Install of drivers resets all settings to their defaults, so you will need to change these settings every time you install a driver. The following settings are key in getting the expected performance out of the V-Ray GPU. Additionally, when you launch the NVIDIA Control Panel from the Start menu and click on the home button you will verify the version of drivers you have installed:
Go to Manage 3D Settings, Scroll down to Power Management Mode, and change it to Prefer Maximum Performance (this slightly increases the power draw of the GPUs in an idle state by a slight margin, this is very important to avoid performance issues on GPU rendering with Vantage and V-Ray GPU). Click on Apply:



If you have multiple GPUs, change OpenGL rendering GPU to the card you have your monitors attached to(this card will be used for viewport performance across all DCC applications) and Click on Apply changes:
Other Windows Settings recommended for GPU rendering
We recommend enabling the Hardware-accelerated GPU scheduling option in Windows 10 and 11 (enabled by default in Windows 11) This will free up VRAM accessible to V-Ray GPU on your GPU(s). This option is available under System > Display > Graphics > Default Graphics Settings: